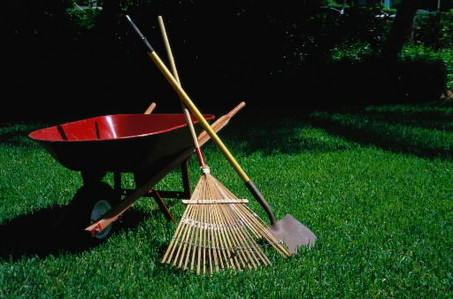 Spring is just around the corner. How you care for your lawn during the springtime sets the stage for the remainder of the year. Unfortunately, if you neglect your yard during the coming weeks, you could end up paying for it the rest of the year. Here are a few suggestions we have for spring lawn care.
Rake. It's time to pull out the rake from last fall. Every yard will benefit from a gentle raking. This removes loose debris and dead turf material from the surface of the lawn. Don't get too agressive. Simply rake as if you were raking your leaves. Do this once the soil has dried enough to walk on without making foot depressions. Raking in the spring will pull out the loose dead material, allow the sun to warm the soil and allow new growth to emerge. This also helps with a winter-induced problem called snow mold. New grass may have difficulty penetrating areas that are affected by snow mold. If you find any matted patches in which the grass blades are stuck togethers, lightly rake over them to allow new grass to grow.
Check Your Lawn. Take a stroll through your lawn and be on the lookout for weeds, moss, snow mold or signs of compaction. All of these are signals that your lawn needs extra care this year.
Fertilize. Your grass craves nutrients. Fertilizing causes your soil work for you instead of against you, resulting in beautiful, greener and healthier grass. As nutrients are released, the root system of your grass fills in any bare patches, depriving weed seeds of a place to germinate.
Sow Seeds. Insects, disease, and weeds can contribute to thin or bare patches your lawn. If the damage is extensive or the area is very shady, it is best to seed in the spring.
Hydorseeding. Thisis an alternative to the traditional process of broadcasting or sowing dry seed. Hydroseed is a slurry of seed, fertilizer, tackifying agents, green dye and other additives that is sprayed onto topsoil. It can transform into a uniform lawn in just a few weeks.
Install Sod. Want an instant lawn with simple maintenance? Laying sod is the way to go. A professional laid sod lawn needs no special care except for initial daily watering because it is a healthy, mature lawn when installed. Sprigged or seeded lawns require years of nurturing to reach maturity. It is best to install sod in the fall or the spring. This will allow the roots to develop to withstand the hot summer temperature.
Landscape Planning. The time is now to begin your landscape planning. Jot down the ideas that you want to implement in your landscape. Choose your theme or style. Schedule a meeting with your designer. Before you know it, summer will be here. You don't want last years winter worn landscape taking away from the beauty of your home and property.
Tune Up. It is recommended to have your mower tuned up and the blades sharpened each year. Early spring is a great time to complete this task. Regular tune-ups reduce fuel consumption and emission levels and help to increase mower life and reliability.
R & D Lawn Care is proud to offer services that cover several of the above tips. Feel free to call us at 417-438-6590 if you have any questions, concerns or if you want to make an appointment for a consultation, lawn care or landscaping.